2 July 2023
Topping the bill: Nurses' inspiring work in mental health care, leadership, regulation and education
The first official day here in Montreal at the International Council of Nurses' 29th Congress
brought the nursing community together with other health experts, media specialists,
governmental representatives and many more to share and discuss the many ways that
nurses can be a force for global health.
Nursing image
Congress delegates gathered for the first plenary session focused on the ICN/BBC collaborative film project, Caring with Courage, a powerful and inspiring production by BBC Story Works that delves into the stories of nurses who have gone above and beyond in providing care to their patients amidst challenging circumstances. BBC producers Simon Shelley and Claire Small spoke to ICN CEO Howard Catton about what producing the film meant to them. And nurses, Barbara Stillwell and Heather McGrath spoke about the ways in which nurses can use the films to change the image of nursing.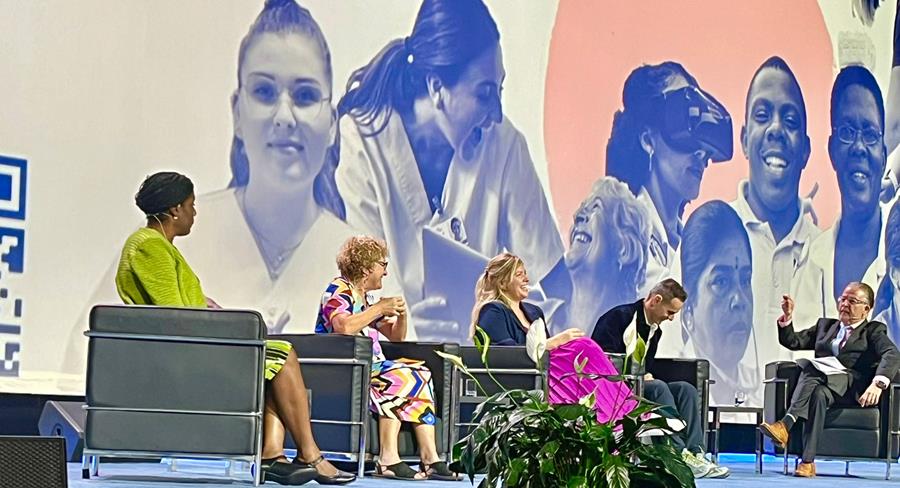 Mental health care
The second plenary session of the day, Dignity and Hope – mental health and substance use, focused on the indispensable role of nurses in building robust and efficient mental health systems. Dr Mark van Ommeren, Head of the World Health Organization (WHO) Mental Health Unit, presented a summary of the WHO's World Mental Health Report, highlighting key global trends, challenges and opportunities in mental health care. Dr Ommeren said: "Nurses are important for mental health, but mental health is important for nurses." Madeline Naegle, a renowned mental health nursing leader, discussed how nurses can contribute to the development and delivery of person-centred, evidence-based mental health services in diverse settings.
Dr Naegle said: "We need to decrease our dependence on the biological model and let nurses do what they do best. When we raise awareness of stigma, we reduce stigma." This thought-provoking session examined how nurses can work with others to improve mental health services worldwide and empower nurses to be at the forefront of change.
Education and regulation
The second main Congress session, Driving the professional practice of nursing through education and regulation, also drew in crowds to discuss the critical need for nursing education and regulation to evolve and keep pace with the times in order to ensure the highest quality of care is affordable, safe and accessible to the public. Speakers included Myrna Doumit, immediate past President of the Order of Nurses in Lebanon, Edna Tallam-Kimaiyo, a global health champion and a national leader in transforming Kenya's health systems through regulating nursing education and practice, and Dr Amelia Latu Afuhaamango Tuipulotu, the Chief Nursing Officer of the World Health Organization.
The Sasakawa Foundation hosted a symposium to introduce its new fellowship programme to support nurses in Japan and a symposium was held in French on educational innovations in the training of nurses for the future. Delegates attending doncurrent sessions on these topics today learned about education preparation and staff development; competence-based education and innovative education strategies.
Universal Health Coverage

A European regional session, entitled Delivering on Universal Health Coverage through Primary Health Care – The Contribution of Nursing, was held today. Speakers included Hans Kluge, Regional Director of the WHO Regional Office to Europe; Margrieta Langins, WHO Regional Office for Europe; Rachel Kenna, Ministry of Health of Ireland; and José Luis Cobos-Serrano, ICN Board member and Third Vice-President of the Spanish General Council of Nursing.
The Japanese Nursing Association held a symposium introducing JNA's strategy to sustain universal health care given their country's ageing population.
Investing in nursing and strengthening health systems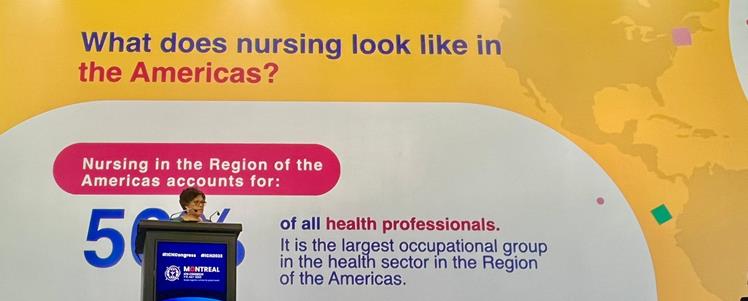 The regional session, Investing in Nursing in the Americas Region, brought together experts from the Americas region to look at the role of nurses in the region to expand and strengthen health systems and financial and political commitment to invest in nursing. The Americas session included Idalmis Infante Ochoa; Janice Mullings-George, Executive Board member of the Caribbean Nurses Organization; Linda McGillis Hall, Faculty of Nursing, University of Toronto; and Maria Chavez, Head of the Nursing at the Hospital de Clinicas in Paraguay and Former Advisor to the Vice Minister of Public Health.
A concurrent session was held on Investment in the nursing workforce and cost effectiveness; and another, in Spanish, looked at addressing global health priorities and strengthening the health system.
Leadership
Mawahib Wang, Executive Director of Nursing Administration at the Saudi Arabian Ministry of Defense Health Services and Melanie MacKinnon, Executive Director of Ongomiizwin Health Services and Head of the Indigenous Institute of Health and Healing spoke at a main session on Nursing leadership: shaping the future of healthcare, which looked at why nurse leaders are so important to health care's future. The session was moderated by Ernest Grant, former president of the ANA.
Leadership was also discussed at a concurrent session on the competencies and confidence required to succeed as a nurse leader; and another examined the role of leadership in building and shaping a successful organisation.
Advanced Practice Nursing
ICN Chief Nurse Dr Michelle Acorn moderated an energetic discussion at the Policy Café on Priority strategies to improve the health systems integration of Advanced Practice Nurses in specialty areas of practice. Future challenges and opportunities for NPs/APNs were discussed at a morning symposium hosted by the ICN NP/APN Network Chair Daniela Lehwaldt; and APN was also the topics at two concurrent sessions: one on the topic of advanced practice nursing and another, in Spanish, on advances in nursing practice.
Strengthening NNAs
ICN Programme Manager Stella de Sabata and ICN CEO Howard Catton presented the ICN's ODENNA initiative which aims to build stronger and more sustainable nursing association on the African continent for improved health care delivery and health prevention measures.
A masterclass in strategic communications for national nursing associations was presented by Diana Mason of the Center for Health Policy and Media Engagement of George Washington University School of Nursing; Richard Elliott, ICN's Director of Communications; and Hildegart Gonzalez Luis.
Patient safety
The Association for Nurses Specialized in Wound Ostomy and Continence Canada gave a one-hour masterclass on clinical decision making in wound product selection. Concurrent sessions were held on The patient experience, Patient engagement and shared decision-making, and promoting a culture of patient safety. Others addressed safe staffing and risk reduction.
Nurses' wellbeing
The Rosemary Bryant AO Research Centre at the University of South Australia presented a tool for monitoring nursing workforce wellbeing. A concurrent session moderated by Andrea Sonenberg looked at nurses' working conditions and positive practice environments. Another, moderated by Jed Montayre, was entitled Living with COVID-19.
Disaster nursing
ICN's Deputy Chief Nurse, David Stewart, moderated a second Policy Café today which looked at ICN's Core competencies in disaster nursing for nurse involved in Emergency Medical Teams, which were published in 2022. A concurrent session moderated by Madrean Schober looked at quality improvement mechanisms for Emergency Health Care teams.
Workforce
Concurrent sessions were held on workforce and organizational culture; promoting nursing practice (in French); and evolving roles of nursing and scopes of practice. ICN Board member Megumi Teshima moderated a session on nurse-led models of care and Farah Khan moderated another on designing and implementing new models of care. A French concurrent session looked at ways in which in increase and support nursing staff.
A new feature this year, the ICN Congress Masterclasses are extremely popular! In partnership with the Innovation team from the American Nurses Association, Intuitive presented a Masterclass on robotic assisted surgery, giving demonstrations of the Da Vinci system and instrumentation. Scaling nursing capacity through virtual reality training was the topic of the masterclass by Kaleidoscope XR. A concurrent session moderated by John Unsworth was held on Virtual Nursing.
Special GCEF Breakfast
Jhpiego hosted an ICN/FNIF Girl Child Education Fund Breakfast Symposium in the morning which featured messages from some of the orphaned girls support by the project. Former ICN President and Chair of the FNIF, Annette Kennedy, spoke alongside Jhpiego President and CEO, Leslie Mancuso. GCEF project manager Stella de Sabata and ICN CEO Howard Catton presented a donation challenge. If you would like to learn more about the GCEF or donate, please click here.
The ICN Congress is currently taking place in Montreal, Canada 1-5 July 2023.
For more information go to https://icncongress2023.org/ or follow us on social media!
source : International Council of Nurses